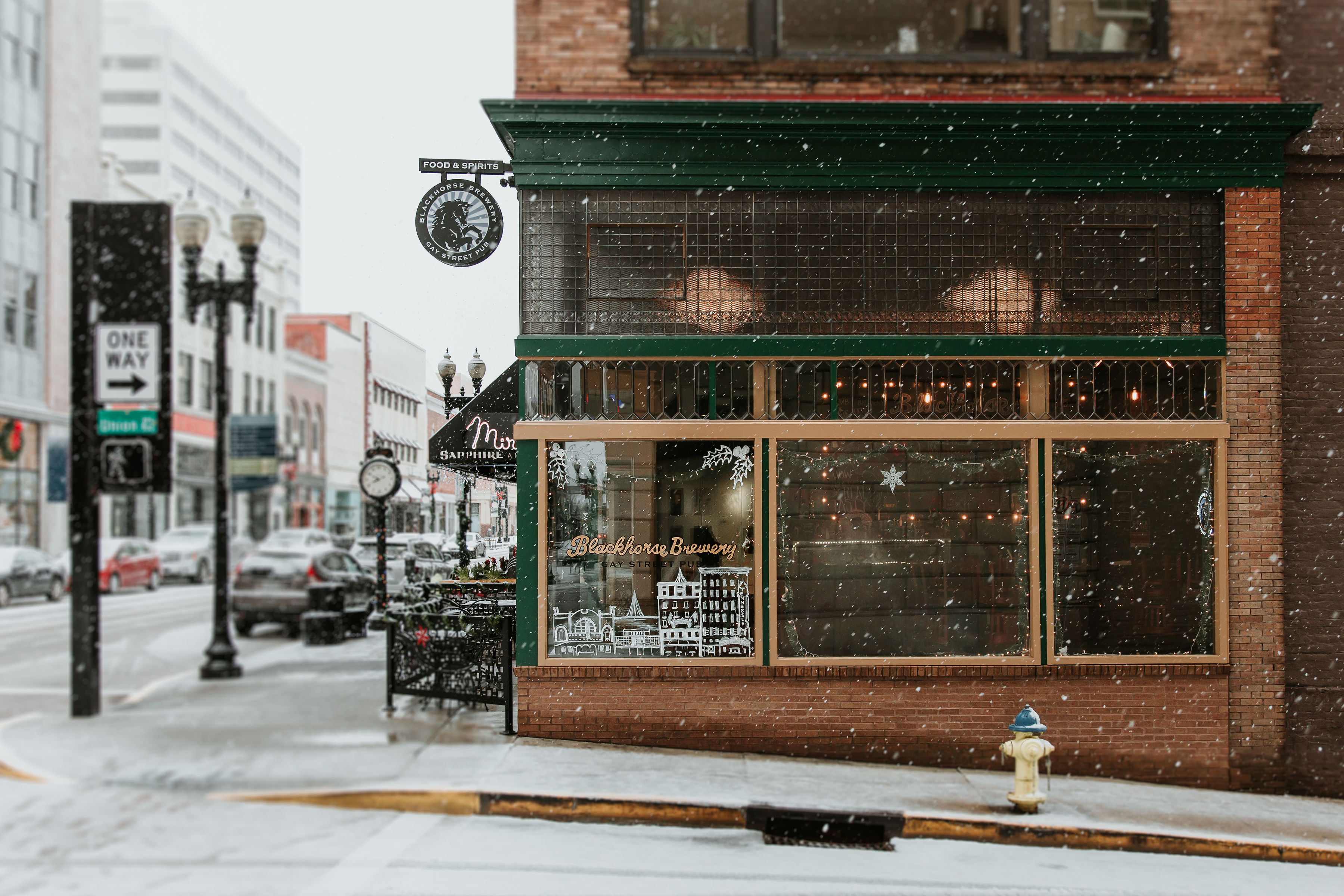 Photo Credit: Chris Smith Photography
Blackhorse is a special place with an awesome history–established in 1992 by a Desert Storm Vet and his wife, their first pub (opened in Clarksville, TN) was only the beginning of their overall vision. The next step was to open their own brewery which happened just a few years later in 1995. Jeff and Sherri Robinson chose the name "Blackhorse" to honor another unit that Jeff admired–the 11th Armory Calvary Unit. Flash forward over 20 years later, and they have an extremely successful business that has even moved to Knoxville (thankfully!), which is Sherri's hometown and where the couple first met.
Now that we know the history, let's get into the best part–the brews and the grub! One of the local favorites that we have to mention first is the Vanilla Cream Ale, which is offered year-round. Other permanent options include their Coffee Milk Stout, the Blackhorse IPA, and the Barnstormer Red Ale. Seasonally, Blackhorse offers a Hefeweizen, an Oktoberfest, and the Saint Nick Dunkelweizen. They also offer specialty brews like their Bad Apple Cider, and their Barrel Aged Peach Saison. If you haven't tried Blackhorse, pick any one of these options to get yourself hooked!
When it comes to their food, they aren't playing around. Serious craft beer deserves a seriously good menu to pair it with. They offer a house-made beer cheese dip, a pimento cheese plate, as well as fried green tomatoes on their appetizer menu. For entrees, they have fun (and delicious) items like the Boo Radley Sandwich, and their Volcano Burger. If you're more in favor of brunch, don't worry, they have you covered! Brunch is offered on Saturdays and Sundays from 10:30 am to 2:00 pm and includes items like Eggs Benedict, Shrimp and Grits, and French Toast, as well as a full bar menu!
Head over to their website to see their full menus from all of their locations as well as their beer options–after that, head over to your nearest Blackhorse and let the good times roll!